Loved by people of all age from all over the world, how can you say no to the traditional homemade focaccia recipe from Puglia? To help you spend the time at home in a more pleasant and tasty way, we are now sharing the original recipe of the focaccia, an art and a passion for Apulians!
According to the blog Camminvattin the origins of the famous focaccia date back to Phoenicians. Back in 2nd century BC, Cato tells how the Phoenicians used millet, barley, water and salt to make a delicious round dough. The dough was then cooked on a stone with olive oil, spices and honey. Later on, Romans took over the tradition by offering the food in ritual worships to the gods and during banquets accompanied by wine.
Like any traditional Apulian recipe, the secret of focaccia is simplicity, with quality ingredients being the key differentiator. This is exactly why focaccia is so delicious, especially if accompanied by an chilly Peroni!
Ingredients:
600gr of flour
1 large potato
boiled and mashed
1 yeast (approx. 40 grams, ideally brewer's yeast)
1 tbsp salt
3 tbsp of extra virgin olive oil
300gr of lukewarm water (approx. 37 degrees)
1 tbsp sugar
Method (traditional homemade focaccia recipe):
For two medium focaccia (4 people)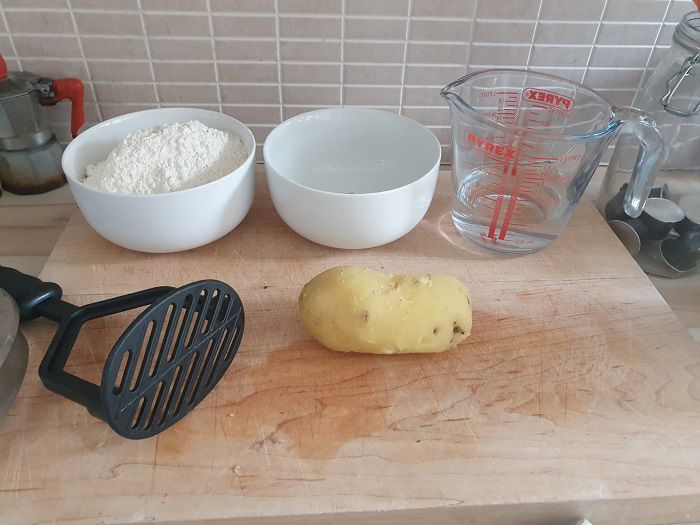 Boil the potato, remove the peel and mash it with a potato masher or a fork.
In a bowl or preferably on a wooden base, mix flour and potatoes with your hands.
Make a well in the center and place yeast, sugar, oil. Gradually add warm water and salt, ideally the salt doesn't have to be added close to the yeast.
Knead the dough for 15 minutes until the dough is a soft and smooth. Create two loaves, make a cross on the top of both loaves and cover them with a tea towel and a blanket.
Leave to rise for at least 2 hours.
After the two hours and once the loaves have doubled, take the baking tray, pour the oil and then stretch the dough with your hands until the dough is stretched evenly. Make sure that the olive oil reached the edges of the dough. It's important to add lots of olive oil so to give crunchiness to the focaccia.
Once the dough has been stretched, it is time to garnish it. You can add tomatoes, vegetables, mozzarella or keep it plain with lots of oregano or rosemary … be creative and pick the ingredients that you love the most!
Leave the focaccia to rise for another half hour ("double rising" is essential) and in the meantime turn on the oven at 200-220 degrees.
. Bake the focaccia for about 25 minutes. Enjoy your focaccia!
Why not try our taralli recipe too? They are delicious! Follow this link