Quoting Danielle Pergament, travel writer for the New York Times, visiting Puglia in winter is far better than in the summer. She writes: "Granted, it's too cold to swim, but the food is tastier, the shops are emptier and the prices are lower. And the lack of attachment to the beach encourages exploration of the area's inland charms. It's like discovering an entirely new Italy — or at least an Italy that is only populated by Italians."
Many talk about pristine beaches, crystal blue water, clear sky and perfect temperatures… not to mention the most 'instagrammable' food and the most glamorous parties by the seaside. But one might wonder, what is the real Puglia?
Beyond bulging burrata and fresh seafood, there's a culture that waits to be discovered and this is why the cooler season, particularly October and November is a wonderful time to visit the region. From history to gastronomy, nature and leisure, visiting Puglia in winter allows travellers to enjoy the region at its fullest by replacing the busy crowds and the long queues with comfort food, cooler weather and more welcoming locals. It goes without saying that overall you will get better value for money.
Local tradespeople and those in the hospitality sector value visitors all the more for choosing to explore the real Puglia and its inland charms during the off-season. There's lots of activities and places to explore during the quieter months. The list is long so we are only going to name a few, but you can get a sense of what's on offer and we'll leave you to choose.
Torre Guaceto, a hidden jewel between sea and nature and a great attraction for sustainable tourism.
A natural reserve and protected area, Torre Guaceto gives visitors a unique opportunity to relax and reconnect with nature. In the area you can observe a great variety of plants and animals.
This includes 20 types of orchidacee and animals such as falcons, black-winged stilts and a rare species of butterfly called Zerynthia cassandra. We also highly recommend to stop for lunch at Ristorante l'Agrumeto, a down to earth but truly authentic restaurant located in the countryside, not far from the reserve. We also highly recommend to stop for lunch at Ristorante l'Agrumeto, a down to earth but truly authentic restaurant located in the countryside, not far from the reserve.
Walking among hectares of olive, almond, prickly pear or cherry trees in the Valle d'Itria is a wonderful way to spend your day.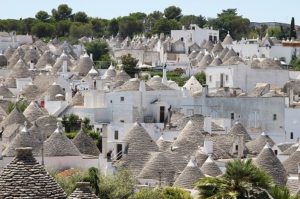 Similarly to Torre Guaceto, a day in the countryside is a fantastic way to spend your day. Starting from Monopoli you can head towards Castellana Grotte and after that drive towards the 'Selva di Fasano'. This wide and hilly forest overlooking the Valle d'Itria and the towns and villages within the region is a gift from nature. You can also visit by one of the many masseria – the typical Apulian farmhouse located on country estates and enjoy the most authentic food there.
Touring the UNESCO World Heritage Site of Alberobello: a name that speaks for itself.
Located in the heart of Valle d'Itria, its narrow streets and little shops selling all things conical-roofed make it a great spot to visit in autumn. Located 400m high from the sea, Alberobello in the summer could be really hot, given its location right in the middle of the region. Visiting this part of Puglia in winter is far more enticing and Alberobello is a great day out for a day of fun and culture. Time travel in Conversano, a medieval town that has preserved its history and tradition. Even though this is not always the first town visitors go to see in Puglia, Conversano has plenty to offer and is well worth spending time in. For instance, the history of Conversano and its influential families is a throwback in 15th century and European history. Ferdinand 1st, King of Naples, the battles against the Turks and the legacy that the Spanish kingdom has left in the south of Italy in the years to come is an incredible deep dive into medieval history. The castle of Conversano is a great reminiscence of it. Located on a hill overlooking the city this beautiful piece of architecture was in fact the residence of the Counts of Conversano for almost seven centuries, since Norman times.
How to get to Puglia:
The easiest way to get to Puglia is to fly into Brindisi or Bari (regular flights from major Italian and European cities).
We hope you enjoyed this article.